23 Feb 2022EUROCOM, Video report
Eurocom TV, 15.02.2022, Zlatina Petkova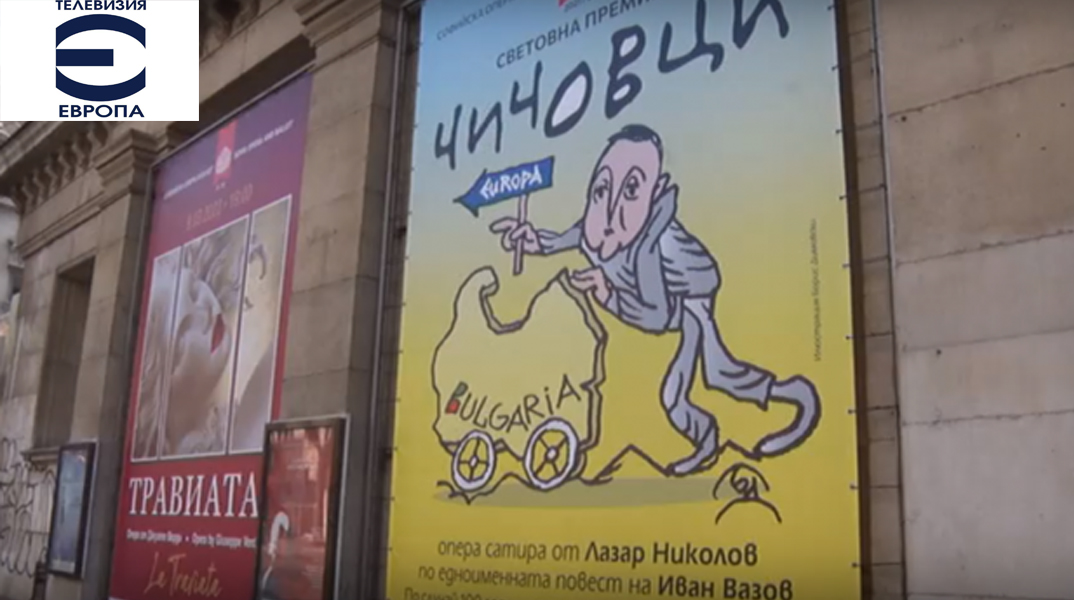 Hardly seven years after the Liberation, the Patriarch of Bulgarian literature Ivan Vazov looked back to the past years, in order to tell, through laughter, the being of his fellow-citizens from Sopot, inhabiting still captive territories of our country.
The memorable personages of Hadji Smion, Ivancho Yotata, Ivan the Selyamsaz, Nikolaki, Varlaam's Wife, Teacher Gatyu and many others gather in themselves all small and as if charming defects of the narrow-minded society, in which freedom is dreamt by the characters, but they turn out to be too busy with their small quarrels of life to have the time and the courage to fight for it, and this is why it remains a topic of conversations at the table.
Namely this epoch recreated Lazar Nikolov 91 years later, when he created the opera of the same name in 1971. Still then he turned to the stage director Plamen Kartaloff with the request to stage it. More than 40 years this request waited its time and today it is already a fact. In March this year is upcoming a world premiere of the opera "Chatterers", and stage director is the chosen by the author himself Academician Plamen Kartaloff. The occasion, however, is Lazar Nikolov's 100th Anniversary.
To the talent of Vazov and Nikolov, the Sofia Opera and Ballet adds the one of the painter Boris Dimovski, whose caricature turned into a poster of the production.
And in the end, in order past and present to shake hands, in this entire beautiful realization, presenting our way of life and culture, interferes one of the most read contemporary Bulgarian writers.
The world premiere of the opera "Chatterers" by Lazar Nikolov will take place on 2 March at 19:00 h on the stage of Sofia Opera and Ballet.
https://eurocom.bg/new/svetovna-premiera-na-operata-chichovtsi
https://www.tvevropa.com/2022/02/vazovite-chichovtsi-za-prav-pat-shte-zvuchat-kato-opera/